By Victoria Shelkovnikova, Citizenship and Immigration Convenor
Immigration matters in sports
How we practice sports in Canada today is influenced by several factors, including our four seasons and geographic and social diversity. For example, lacrosse, our national summer sport, has been played by Indigenous peoples for nearly 1,000 years.
Hockey, our national winter sport, was invented in Canada in the 1800s. Basketball was invented by Canadian Dr. James Naismith in 1891 to condition young athletes during the winter. Our sports system allows people from all segments of Canadian society to get involved in sports activities at all levels and in all forms of participation.
Football – like citizenship – is the ultimate team game. It requires people of every size, strength, and skillset to work together as a team to achieve great things. [Canada's] new citizens, and our players, are part of a proud history that has made our league and country stronger.

~ Randy Ambrosie, Commissioner of the Canadian Football League
Impact of immigration
More than 2,800 immigrants work as athletes, coaches, officials, and referees across the country.
Immigrants make up 20% of all people working in Canada as sports coaches.
There are more than 16,000 immigrants who earn their living as program leaders and instructors in recreation, sport and fitness.
Number of immigrants in sports-related occupations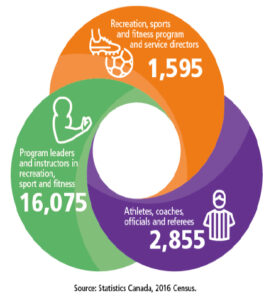 Immigration profile: Vancouver, British Columbia
Quick facts:
Immigrants in the Vancouver area represent 41% of the population.
More than 58% of immigrants who came to the Vancouver area between 1980 and 2016 were economic immigrants, while family sponsored nearly a third (31%), and 9% were refugees.
Did you know?
A total of 128 athletes were named to the Tokyo 2020 Canadian Paralympic Team, with 21 (16%) from British Columbia.
Famous Canadian immigrants
Geraldine Heaney
Geraldine Heaney immigrated to Canada from Northern Ireland and became a pioneer in women's hockey. She was a Canadian national women's hockey team member in the first seven Women's World Championships, winning gold each time. She's a two-time Canadian Olympian (silver in 1998, gold in 2012). She was also inducted into the Hockey Hall of Fame and Canada's Sports Hall.
Donovan Bailey
Donovan Bailey immigrated to Canada from Jamaica. He won two Olympic golds in sprinting for Canada in 1996, with one run recorded as the fastest time ever recorded by a human. He was also inducted into the Ontario Sports Hall of Fame.
Wally Buono
Wally Buono immigrated from Italy to become one of the most legendary coaches in the Canadian Football League (CFL). After playing college football in the United States, he became a linebacker for the Montréal Alouettes. He was head coach and general manager of the Calgary Stampeders and then the BC Lions, where he retired at the end of the 2018 season. Wally's impressive CFL career spanned a remarkable 46 years.
Bianca Andreescu
Born in Canada to Romanian parents, Bianca Andreescu became the first Canadian woman to win a tennis Grand Slam title at the 2019 US Open Final. She's currently ranked fifth worldwide by the Women's Tennis Association.
Denis Shapovalov
Israeli-born Denis Shapovalov is the top-ranking Canadian male tennis player and 15th in the world. In 2017, he was named the Association of Tennis Professionals' Newcomer of the Year and the most improved player of the year.
Elvis Stojko
Elvis Stojko, of Hungarian/Slovenian descent, represented Canada at the World Figure Skating competitions. He won titles in 1994, 1995 and 1997. He's also a two-time Olympic silver medallist at the 1994 and 1998 Olympic Winter Games. Elvis Stojko was inducted into Canada's Sports Hall of Fame in 2006 and the Canadian Olympic Hall in 2011.