By Elizabeth Gautschi, Civic Affairs Convenor
Civic Elections in Metro Vancouver on October 15 – The results are in!
Voting for change seemed to bring about the downfall of many incumbent mayors. Thirty-seven mayors across BC lost their bids for re-election. But voter turnout continued to be low. On average across BC there was only a 33% voter turnout.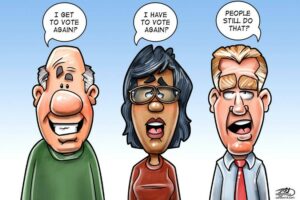 In Vancouver only 35% of eligible voters cast a ballot.
However, for those who did vote, the two main issues seemed to be housing availability and affordability as well as safety on the street. Other key issues in many Metro Vancouver municipalities were homelessness, mental health issues, drug overdose and crime. In Surrey there was also controversy over policing and the change from the RCMP to a city police force. Ten municipalities in Metro Vancouver have new mayors.
Vancouver – Ken Sim defeated incumbent Mayor Kennedy Stewart. Sim had 85,732 votes, well ahead of Stewart's 49,593. Sim's top priorities are to immediately requisition the hiring of 100 more police officers and 100 mental health nurses to improve public safety. He also wants to speed up permitting processes at city hall. However, there will not be much change in the direction of many projects approved by the previous mayor and council which included the Broadway plan, the citywide Vancouver plan and proposed SkyTrain extension to UBC, all of which were supported by three incumbent ABC candidates and by Sim in public statements. It is the first time a single Vancouver party (ABC) won a majority on council, school board and park board since Vision Vancouver did so in 2011. (Source: The Vancouver Sun)
In the other 20 Metro Vancouver communities, the results are:
Village of Anmore – Mayor John McEwen was re-elected
Village of Belcarra – Mayor Jamie Ross was re-elected
Bowen Island – Andrew Leonard is the new mayor
Burnaby – Mayor Mike Hurley was acclaimed as there were no contenders
Coquitlam – Mayor Richard Stewart was re-elected
Delta – Mayor George Harvie was re-elected
Langley (City) – Nathan Pachal defeated incumbent Val van den Broek
Langley (Township) – Eric Woodward is the new mayor
Lions Bay – Ken Berry defeated incumbent Ron McLaughlin by 18 votes
North Vancouver City – Linda Buchanan was re-elected
District of North Vancouver – incumbent Mike Little was narrowly re-elected
New Westminster– Patrick Johnstone is the new mayor
Maple Ridge – Dan Ruimy defeated incumbent Mike Morden
Pitt Meadows – Nicole MacDonald is the new mayor by acclamation
Port Coquitlam – Brad West is mayor again by acclamation
Port Moody – Meghan Lahti was elected as mayor; the current mayor did not seek re-election
Richmond – Incumbent Malcolm Brodie won a historic seventh term in office as the mayor
Surrey – Brenda Locke defeated incumbent Doug McCallum
West Vancouver – Mark Sager defeated incumbent Mary-Ann Booth
White Rock – Former councillor Megan Knight defeated incumbent Darryl Walker
Whatever changes take place in each of the communities in the next four years, all of the elected bodies will have to work together on big issues affecting Metro Vancouver and BC as a whole, whether that's transit, housing affordability or the impacts of climate change.
What happened in your municipality on voting day?
Were you satisfied with the results?
Will the elected candidates fulfill their campaign promises?
What will you be watching for over the next four years?
How can we get more people out to vote?